The Top 8 Cabinetry Trends for 2020
Posted by Kristen Roberts on Tuesday, December 15, 2020 at 12:21 PM
By Kristen Roberts / December 15, 2020
Comment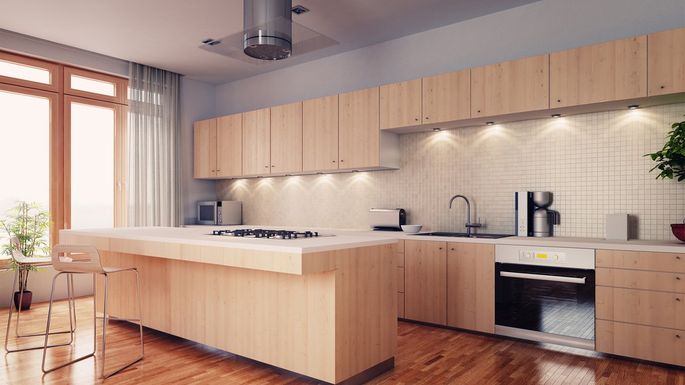 It's no secret that a kitchen remodel can run you some big bucks. But you don't have to blow your entire renovation budget to get a new look.
In fact, just refinishing your kitchen cabinets can give you the feel of a full makeover for only $2,500, according to remodeling experts. Looking to go one step further and replace the cabinet doors? That project, also called refacing, would still put you out less than $15,000.

That might still feel like a high price to pay for a few new cabinets, if not for one little detail: When it comes to renovating the kitchen, you tend to get all that money back. Home renovators recover a whopping 78% of minor kitchen remodel expenses in the resale value of the home, according to Remodeling magazine's Cost vs. Value report.
So whether you're planning on sticking around for awhile and just want to spice things up in the kitchen, or you're getting ready to move and want to impress buyers, consider updating your kitchen cabinets.
Here are eight hot cabinetry trends to inspire your 2020 remodel.
1. Cerused wood cabinets
Unlike a simple stain, "cerusing" wood involves using several different color pigments to highlight natural grain patterns in the wood.
"Cerused wood cabinets—commonly thought of as lime-washed wood—are going to be big for 2020," says Lauren Noel of Love Remodeled. "It's a fresh take on the natural look that's so popular right now. The matte finish and white grain that cerused wood has neutralizes any honey tones, making it perfectly on trend and a great way to showcase wood."
2. Pastel cabinets
"Pastel colors are making a comeback in 2020," Noel says. "Pastels bring a sense of tranquility to a room, and can warm up an otherwise stark space."
In addition to the light greens and blues, we'll be seeing a lot more light pink this year, Noel predicts. That tracks with the fact that Benjamin Moore paint company chose a light, rosy pink called First Light as its 2020 Color of the Year.
3. Reclaimed wood cabinets
It's a new year, but Old World farmhouse trends are still super hot right now.
"Farmhouse is definitely not going out of style," says Lauren Holmes of Zen Staging With Lauren. "It's just a little more moody and Old World, and these reclaimed cabinets are an upcycled, eco-friendly way to give a kitchen that warm and cozy feeling."
4. Stand-alone kitchen larder
This year's cabinetry trends are leaning heavily toward stand-alone accent pieces.
"A stylish upgrade to a pantry, the larder stands as a functional accent piece," says Vicki Liston, of On the Fly ... DIY. "You can either paint it to blend with your other cabinetry or turn it into a focal point. Either way, if you end up moving, you can take it with you."
5. Sophisticated brass accents
Brass is back and ranking as the go-to hardware in trending kitchen designs.
"It's a great highlight to white or blue cabinets," Noel says, "and brings a modern touch to any kitchen."
However, when sourcing your new hardware, make sure to avoid the bright and shiny brass that was popular in the 1990s. Instead, look for modern brass hardware that has more of a brushed or antiqued look.
6. Two-tone cabinets
Kitchen designs are busting out of traditional color schemes, with more and more interiors incorporating chic "two-tone" cabinets.
"This year is the year of making a bold and fresh statement in the kitchen," says Holmes. "Two-toned cabinets brighten a room and make it feel bigger. The lower, more earthy tones add weight to the space, while the lighter tone on top makes the kitchen feel brighter and bigger. This is a perfect look for smaller kitchens or those with poor lighting."
7. Open-frame cabinets
In 2020, we're continuing to see a trend toward the Zen, minimalist interior—which for your crowded kitchen, involves ditching the bulky stuff for open-frame cabinets.
"If you want your kitchen to feel more spacious, open frame cabinets will help with that," says Liston. "The only catch: They can't be full of stuff. Stage your open cabinets with symmetrical stacks of plates or a well-placed arrangement of matching glasses that will feel satisfying to view."
8. Mushroom-colored cabinetry
Move over, cool gray! A warmer neutral is taking top spot in the kitchen this year.
"Mushroom-colored cabinetry is a hot trend for 2020," says Noel. "Paired easily with gold or black hardware, this on-trend greige color brings a muted but updated look that's perfect in any kitchen."