March 2021: Market Indicators Report
Posted by Kristen Roberts on Wednesday, April 21, 2021 at 11:10 AM
By Kristen Roberts / April 21, 2021
Comment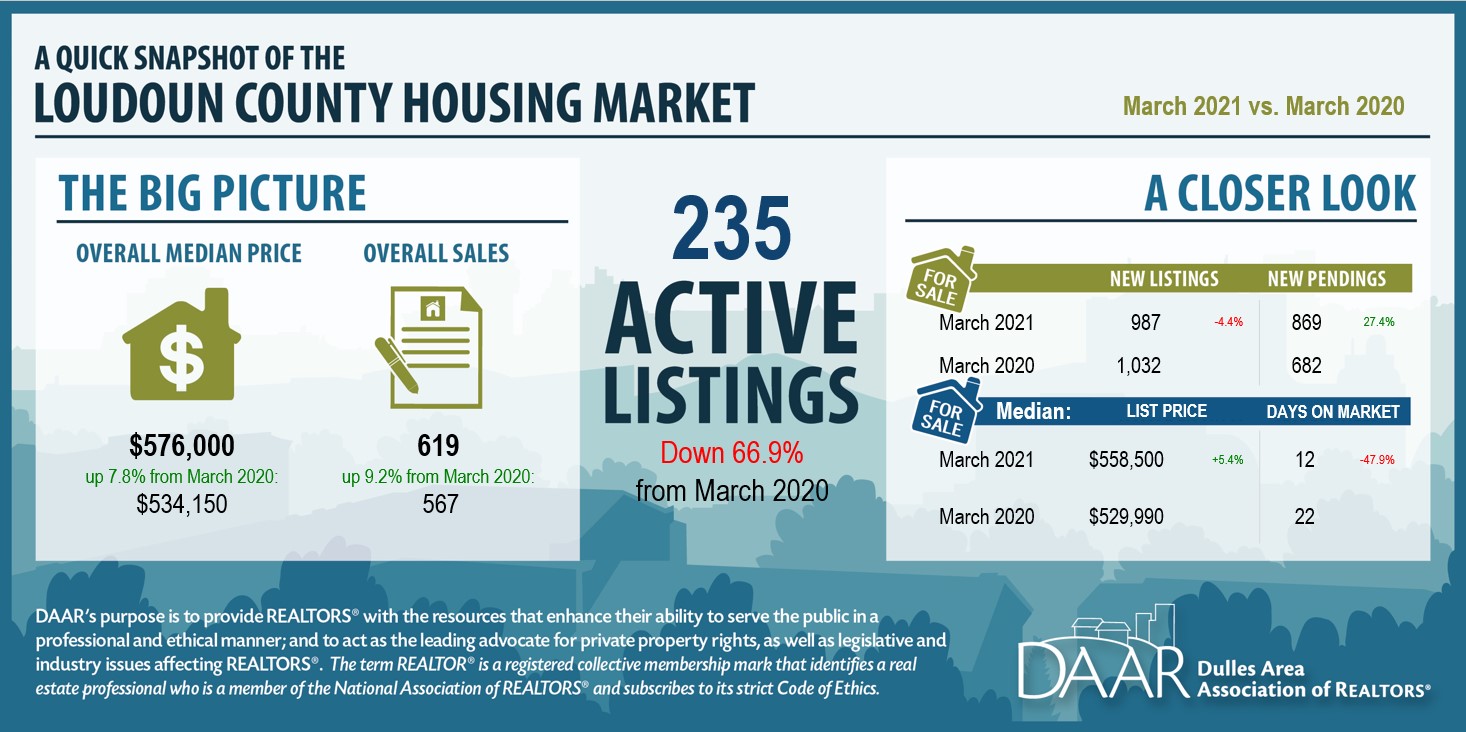 Key Market Trends
Sales growth continued in Loudoun County for the ninth straight month, though the pace of growth moderated.
There were 619 home sales in Loudoun County in March, 52 more than a year ago, representing a 9.2% increase. Sales activity expanded in most local markets, but it was not as big of a surge as it has been for much of the past several months. Leesburg (zip code 20175) and Aldie (zip code 20105) had the largest increase in sales activity, with 26.9% and 26.7% more sales, respectively, from a year ago. Ashburn (zip code 20148) also had a strong month with 18.3% more sales than last March. Sales in Purcellville (zip code 20132) declined 15.9% from last year.
Pending sales are back on the rise after slowing down last month.
After declining in February, pending sales in the Loudoun County housing market jumped back up in March. There were 869 pending sales in the County this month, 187 more than a year ago, which is a 27.4% increase. Most of the pending sales activity this month occurred in the Ashburn area; zip code 20147 had 57.8% more pending sales and zip code 20148 had 44.9% more pending sales than last year. Lovettsville (zip code 20180) was the only local area to have a drop in pending sales this month (-15.0%).
Sales prices are rising sharply in many local areas.
At $576,000, the March median sales price in Loudoun County was nearly $42,000 higher than it was a year ago, representing a 7.8% gain. Ashburn (zip code 20147) and Leesburg (zip code 20176) saw the largest median sales price gains this month, jumping up 20.8% and 15.5%, respectively, compared to last year.
Supply in the County's housing market remains tight, new listings continue to decline.
There were just 235 active listings for sale in the County at the end of March, a 66.9% reduction from last year. New listings were down 4.4% compared to March of last year.